Diary
30th October 2004, early evening
|

Link

|

Comments (0)
tag_error <txp:php> ->  Warning: getimagesize(http://...@Helsinki/helsinki_doudine_10.2004_003.jpg) [function.getimagesize]: failed to open stream: Network is unreachable  on line 50
tag_error <txp:php> ->  Warning: getimagesize(http://...@Helsinki/helsinki_doudine_10.2004_008.jpg) [function.getimagesize]: failed to open stream: Network is unreachable  on line 50
tag_error <txp:php> ->  Warning: getimagesize(http://...@Helsinki/helsinki_doudine_10.2004_010.jpg) [function.getimagesize]: failed to open stream: Network is unreachable  on line 50
tag_error <txp:php> ->  Warning: getimagesize(http://...@Helsinki/helsinki_doudine_10.2004_021.jpg) [function.getimagesize]: failed to open stream: Network is unreachable  on line 50
tag_error <txp:php> ->  Warning: getimagesize(http://...@Helsinki/helsinki_doudine_10.2004_027.jpg) [function.getimagesize]: failed to open stream: Network is unreachable  on line 50
tag_error <txp:php> ->  Warning: getimagesize(http://...@Helsinki/helsinki_doudine_10.2004_033.jpg) [function.getimagesize]: failed to open stream: Network is unreachable  on line 50
tag_error <txp:php> ->  Warning: getimagesize(http://...@Helsinki/helsinki_doudine_10.2004_034.jpg) [function.getimagesize]: failed to open stream: Network is unreachable  on line 50
tag_error <txp:php> ->  Warning: getimagesize(http://...@Helsinki/helsinki_doudine_10.2004_036.jpg) [function.getimagesize]: failed to open stream: Network is unreachable  on line 50
tag_error <txp:php> ->  Warning: getimagesize(http://...@Helsinki/helsinki_doudine_10.2004_039.jpg) [function.getimagesize]: failed to open stream: Network is unreachable  on line 50
tag_error <txp:php> ->  Warning: getimagesize(http://...@Helsinki/helsinki_doudine_10.2004_040.jpg) [function.getimagesize]: failed to open stream: Network is unreachable  on line 50
tag_error <txp:php> ->  Warning: getimagesize(http://www.cs.mtu.edu/~shene/DigiCam/Gallery/Travel/Finland/Nicholas-Cathedral/cat-2.jpg) [function.getimagesize]: failed to open stream: Network is unreachable  on line 50
tag_error <txp:php> ->  Warning: getimagesize(http://...@Helsinki/helsinki_doudine_10.2004_065.jpg) [function.getimagesize]: failed to open stream: Network is unreachable  on line 50
Hello guys

As you may know, I am a big fan of Burton snowboards (simply the best brand for everything lol) so you will understand why I didn't resist to take the following photo. Taken in Helsinki center, not very far from Rautatientori (Finnish) / Järnvägstorget (Swedish) … ok the Central Railway Station (English lol).


When I say "not very far", it is very funny because, nothing is very far from where you can be located in Helsinki. For example, and for the nostalgic of us, here the list of Helsinki metro stations is:
Ruoholahti – Itäkeskus:
– Ruoholahti (Gräsviken)
– Kamppi (Kampen)
– Central Railway Station (Rautatientori / Järnvägstorget)
– Kaisaniemi (Kajsaniemi)
– Hakaniemi (Hagnäs)
– Sörnäinen (Sörnäs)
– Kalasatama (Fiskhamnen) — opens January 1st, 2007
– Kulosaari (Brändö)
– Herttoniemi (Hertonäs)
– Siilitie (Igelkottsvägen)
– Itäkeskus (Östra centrum)
Itäkeskus – Mellunmäki: (northern branch)
– Itäkeskus (Östra centrum)
– Myllypuro (Kvarnbäcken)
– Kontula (Gårdsbacka)
– Mellunmäki (Mellungsbacka)
Itäkeskus – Vuosaari: (eastern branch)
– Itäkeskus (Östra centrum)
– Puotila (Botby gård) -> this one is my favorite ;o)
– Rastila (Rastböle) -> we were living here.
– Vuosaari (Nordsjö)
As you can see, it is nothing compared to a city like London or Paris. The GOOD point is that the metro is not crowded like in Paris or even London. Crowded places are a pain in the ass.
Ok, some boring shots of me
and one of Amandine
The big classic, Amandine and I, together on stage lol
Now, on our way to the Uspensky Cathedral, the clearly Orthodox church quite close to the city centre. It is built right on the rocks that lie underneath Helsinki. A short climb takes you up to the entrance of this Russian Orthodox cathedral that is consecrated to the eternal sleep of the virgin Mary. The church is adorned with 13 golden cupolas and is the largest Orthodox church in western Europe. From here, a longer walk takes you past the main Cathedral to probably the most peculiar church of the city.


Yes … It was very warm as you can see lol
I have talked about the church and haven't shown it to you yet.
To be honest, I prefer the style of the Helsinki Cathedral (aka The Lutheran Cathedral). It was built in 1830-1852 to replace an earlier church from 1727. The church is Greek cruciform in shape, and the original neoclassical design by Carl Engel was altered by his successor, Ernst Lohrmann. Lohrmann added four small towers and two side buildings of which one is a belfry, and the other is a chapel. There are statues of the Apostles made of zinc on the roof, and they are the biggest unique set of zinc sculptures in the world. The seating capacity is 1300. The church was called St. Nicholas church until the independence of Finland in 1917. Since 1959, it became a Cathedral, and is called Helsinki Cathedral or the Lutheran Cathedral. Here a crap view (All my apologies to you) of it.

and another photo I have found on google/images (http://www.cs.mtu.edu)


During those holidays, I had to work for my school exams and you can see that I was working on some analogical electronics.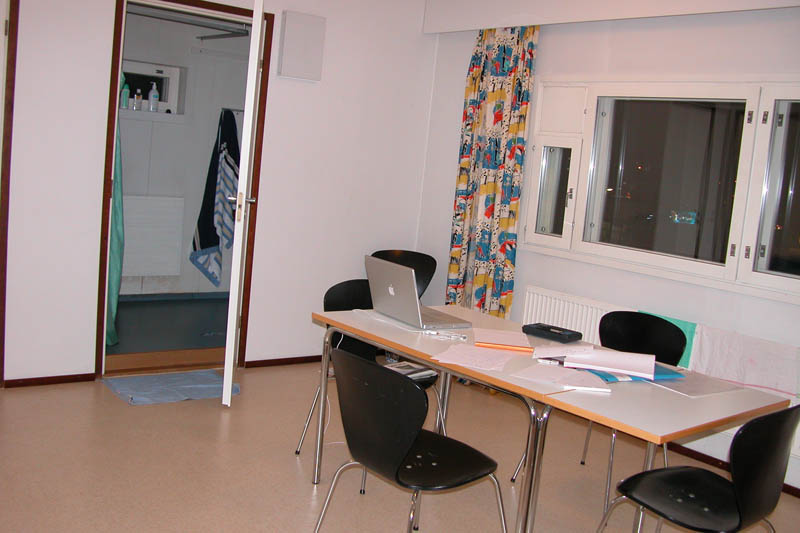 That's all folks !!! I have to go out now, see you soon.